(Last Updated On: January 31, 2016)
It seems as though we're encountering more chatter about food. As Thanksgiving and religious holidays approach, charities that distribute food get more media play.  Food supply and governmental policy are hot political issues, with an overlay of ethical concerns, especially in terms of health and security.
In our day-to-day lives, we've noticed an up-tick in the conversations we're having that are food-related:  menu planning for special dietary needs, lip-smacking as we anticipate holiday visiting and parties, budget considerations.  Not an hour goes by that something doesn't come up (pun unintended) that's food-related.
In our younger days, my brother and I used to chuckle when we'd hear from our snowbird parents.  Mom and Dad would phone long distance from Florida to check in.  The conversation invariably turned to the subject of food. The minutes would add up as they recounted what they had to eat at various get-togethers, or how all the "old people" (not them, of course) would start lining up way ahead of time for the all-you-can-eat buffet in the hot sun, and my dad's knowledge of organic eating and vitamins.  "Save us," we'd eye-roll, "from ever being like that!  We don't want to hear about mashed potatoes, gravy, or prunes on an expensive long distance call!"
Fast forward thirty years and my brother and I are exactly like that now. Perhaps even more so, because it's fun to talk menus, implements, memories, and techniques with each other.  Put my husband into the mix and it's a rip-roaring conversation that makes me grateful for our free long distance cellphone plan.  😀
I got to thinking even more about food yesterday. This was after a discussion in my LOL group, which meets every Tuesday morning.  Yes, we Laugh Out Loud often and heartily, but the LOL stands for Little Old Ladies.  We're studying and applying internet marketing techniques.  While we're each not particularly old per se, by comparison with the internet gurus, who all seem to be about 12 years old, we're definitely long in the tooth.  Anyway, as Old Ladies ™ tend to do, and I just did, we digressed.  Instead of internet marketing, we talked about food.
One of the ladies lives in Cologne, Minnesota, close to New Prague and Heidelberg (can you tell where early settlers came from in this neck of the woods?) where Odenthal Meats who processed our piggy is located.  She recounted how the local retail butcher in Cologne had sold his store to a group of Somali entrepreneurs who are busy specializing in goat meat.  They serve the larger Somali community in Minneapolis from this small-town location, and she can actually hear the goats bleating all day long after they are delivered to this butcher.  This lady and her husband also raise half a dozen chickens as part of a project that she described as "Grandpa teaching the grandchildren where their food comes from."
Another of our group brought up the issues raised in the documentary, Food, Inc.  This movie's appeal is limited to anyone who eats. While Pete and I eat a high percentage of food whose provenance we can track – locally produced or grown by us, shared or traded with family and friends, and more recently "commissioned" as with our piggy – I'm more and more concerned about the origins of everything.  I want, paradoxically, to broaden my choices in food, but limit its provenance to trusted sources.
The ecology and economy of food was forever changed after World War II. Suddenly, its production and distribution was industrialized.  An entire range of choice was available to the American consumer, whose pent-up demand arising out of wartime rationing and Great Depression economics was unleashed.  Convenience foods catapulted in variety and sheer numbers.  Processes were "improved" and augmented to result in greater yields from more depersonalized sources.
These innovations were touted as part of an increasingly media-driven perception as "modern" and "liberating," in that they decreased the amount of time devoted in an average household to production, procurement, preservation, and preparation.  All this came at a huge price, though; we're paying for convenience and access with our health. Along with this decline comes the decline in time spent enjoying the process of eating.  Dinner, instead of a nightly occurrence for which you were never late or absent, is a special occasion.
Food Inc. has created somewhat of a sensation for its controversial views.  What could be controversial about promoting ecologically sound and healthful practices in producing and distributing food, I wondered?
Well, as it turns out, plenty.  Food is big business. The largest privately owned company in the world, Cargill (headquartered just a few miles from our home here in Minneapolis) responded to the criticisms raised in the film with a cautionary note: " . . . 'one-size-fits-all' answers to a task as complex as nourishing 6 billion people who are so disparately situated across the world. Generally, open markets, which provide access to both locally and globally sourced food, are the most efficient means for people around the world to meet their food requirements with nutritious diets."
A growing number of organic value-added entities have stabilized a long-standing decline in Minnesota's farms, in particular.  However, the same article points out that, "organic farming on a large scale would require us to triple the amount of land we farm to feed our population, with all the attendant environmental consequences. Nobel Prize winner Norman Borlaug, the father of the "Green Revolution" of the 1960s and 70s — once said that broad practice of what he termed "medieval farming" could feed at most 4 billion people, much less than what the world population is today, to say nothing of what it will be by 2050."
Borlaug, whose tireless work was inspired by the cause of eliminating hunger, and who is credited with saving at least 250 million lives,  opined, "Some of the environmental lobbyists of the Western nations are the salt of the earth, but many of them are elitists. They've never experienced the physical sensation of hunger. They do their lobbying from comfortable office suites in Washington or Brussels. If they lived just one month amid the misery of the developing world, as I have for fifty years, they'd be crying out for tractors and fertilizer and irrigation canals and be outraged that fashionable elitists back home were trying to deny them these things."
It's sobering not only to contemplate a hierarchy of food availability, which currently exists and is exploited, but also one that might devolve into a triage-like distribution apparatus tied to quality.  Can you imagine, if you are one of those who is lucky to have food in abundant supply, having restricted access to the quality of food that you prefer?  There are already millions who can't get enough food, period, let alone good food.
The publicization of the presence of poisonous components in imported pet foods, toys, building products and human food from Chinese sources made me hypersensitive to the impression that there's some kind of "there there."  What is the incentive behind deliberately including toxic components in foods that are not only exported to nations who are political competitors, but fed to your own population? This can't purely be financial, can it?  The vast implications of that supposition make my head and my heart hurt.
We find it best to do what we can do for ourselves within the context of what we serve at our table, and within our sphere of family and friends.  Within that sphere, I was amazed to count the numbers of folks who had worked, or continue to work, in food-related businesses.  Our grandparents were farmers, Pete's in Iowa and mine in Michigan.  There is Pete's father, retired from 30 years as an executive with a major grocery chain.  There is my brother, trained at the Culinary Institute of America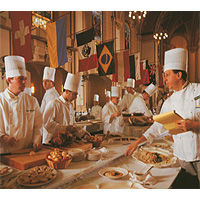 , and formerly a chef at a gourmand's landmark in our hometown.  Two of Pete's sisters work with food – one as a customer service professional at a wholesale baking supplier, and one as a rep and trainer for a company that builds and installs large delicatessen equipment.  I still work with food indirectly:  even though I recently sold my gourmet gift basket franchise unit, I continue to work for the franchisor in development and communications.  One of my largest customers was Cargill, whose core business is developing hybrid seed for greater crop yields.  We now have a working farmer again in our midst.  And so, we come full circle.
I'd said after a series of disastrous dating encounters that I'd never be happy with someone who wasn't adventurous with food. The Universe saw fit to couple me with someone who is not only adventurous and interested, but also extremely talented.
Pete's thousands of entries in his recipe database rely heavily on organic, and non-processed ingredients.  Sharing this knowledge and talent comes naturally.  We're a family that constantly talks recipes – there are plenty of gourmet cooks and even more happy eaters.   😀
Now there's even more outreach.  Pete's lens, From the Garden Pumpkin Pie was designated Lens of the Day on Squidoo.com, winning $1000 for his charity, Wildlife Forever.  Another of his lenses, How to Roast Wild Turkey, was also Lens of the Day last week.  However, his less-than-stellar luck hunting turkeys is legendary.  😀
Next year, we will likely purchase a steer that our daughter's boyfriend,  Scott, is planning to raise (we'll do shares with other families), and fill our freezer with humanely-raised, organically-fed, and respectfully-processed beef and pork from another pig.  We're hoping we can convince Scott to raise some chickens for us, or perhaps my friend who is teaching her grandchildren could be persuaded.
Just prior to writing this post, I read this one, by our friend Patricia at Patricia's Wisdom, who wrote an open letter to Michael Pollan (who was featured in Food, Inc.) after reading his In Defense of Food.  The quote she used bears repeating:
"Eating with the fullest pleasure – pleasure, that is, that does not depend on ignorance – is perhaps the profoundest enactment of our connection with the world. In this pleasure we experience and celebrate our dependence and our gratitude, for we are living from mystery, from creatures we did not make and powers we cannot comprehend."
This quote reminded me that I had sent up a silent prayer of gratitude to our piggy, in appreciation that he had given his life for our sustenance.  This notion had rarely occurred to me, if at all, prior to becoming more personally involved with what we were about to eat.  Much in the same way that my friend's grandkids are learning about the chickens and their eggs (I wonder which they'll decide came first?), a more personalized relationship with the sources of our food has illuminated and expanded my thinking.
Perhaps if we all keep sharing what we learn and know, and incorporating actions and principles that are respectful, not only of our own health, but that are also ecologically sound, we can truly change the world, one table at a time.  I fervently hope so.
What do you think?
Photo Credits:  Pumpkin in Snow – Peter Wuebker
All Others – Apture
Related Reading:
PassingThru is a participant in the Amazon Services LLC Associates Program, an affiliate advertising program designed to provide a means for sites to earn advertising fees by advertising and linking to amazon.com, amazon.co.uk, amazon.ca. Amazon and the Amazon logo are trademarks of Amazon.com, Inc. or its affiliates.
To view PassingThru's privacy policy, click here.