(Last Updated On: September 17, 2015)
Even those of us who think we're ready to be mothers find that we are taken by surprise.  The worriers among us have fretted during anticipation, practice, and still do from the empty nest.  There is an abundance of things to learn from motherhood, the least of which is that the exalted condition can not be defined in general terms.  But even so, in honor of Mother's Day I thought I would share some of the things I've learned for myself in the 23 years I've had the gig, and from others, including my own, who've traveled the path.
Children will be who they are – from the minute they breathe their first breath.  The best thing we can do for them is recognize them and show them a world of possibilities.
I had long suspected there is an enormous capacity for love residing within a mother's heart, but I was surprised that a seemingly infinite and very fierce capacity to defend took residence in mine.
It is wise to savor the period of time, no matter how fleeting, in which they mind what you say.
It's difficult to live in the moment, part one:  When mine were four and six, I wished fervently for Peter Pan to come and keep them forever in their absolute perfection.
When you screw up, your children are among the first to forgive, particularly when you admit.  When my youngest barely could talk, I confided that we were on our way home without completing our stated errand because I had written the wrong date on the calendar.  The response:  "That's okay, Mommy.  When we get home, we'll just erase your mistake."  Wouldn't it be lovely if such were possible for every error?
It's difficult to live in the moment, part two:  When my oldest was in preschool, his teaching team gave me an assignment.  I was to write my hopes and dreams, and then we all would devise an individual education plan to address those hopes and dreams within the context of his greater needs.  I slaved over my written response: how I dreamt that he would find a romantic partner with whom he could spend a happy life, that I wished for him the ability to walk into a roomful of strangers and walk out at the end of the evening with at least one new friend, that he would be a good dinner partner – able to converse intelligently on a variety of subjects, and that he see the world as his oyster.  We sat at the conference table and his lead teacher looked into my eyes very kindly and said how wonderful it was to read all this.  "But," she  went on, sweetly, "we were sort of just thinking about the next three to six months."  Oh.
My dear friend, Judy, always said when they turned 14, aliens would come and take their brains.  It happened to her and it would happen to me.  This was entirely correct.  Judy also said if we were lucky, the brains would be returned sometime in their 20's.  This, for the most part, has also been correct.  😀
It's a good idea not to stress over things like messy rooms when they're teenagers.  God has invented doors that close to assist with this objective.  In fact, it's most reasonable if they are doing acceptably well in other areas not to set foot in their rooms for years except to change the smoke alarm batteries.
Sports may keep kids from doing stuff you don't want them to do.  At the very least, the way sports are structured these days, they'll rarely have a minute to think.  Neither will you.  This is why it's good to seek out other parents on the traveling team who realize the benefits associated with the hotel bar.
High school still sucks a lot, and kids are ready to be done with it long before it's ready to be done with them.  If you can bribe convince them to play the game, they'll be the better for it.  And it's good practice if they're going to wind up in a cubicle farm.  Not that we'd wish that for them, but hey, it happens.
It's okay if they don't want to get their driver's license right away.  And they'll live if they don't pass the test the first time, too.  In fact, it's better that they flunk the test by one point than pass it by the same amount.
They will honor you in unexpected ways – with an off-hand remark, with a referral that a friend use you for a recommendation, by cracking up with you over something funny, or writing a note.
Boys in particular assign relevance to tasks in the context of their planet, not yours.  This bears out most frequently with respect to homework completion.  Also, it will be easier for you if you understand that simply because homework is completed doesn't mean it will be turned in.
Putting them in the car and driving them someplace, either singularly or in groups, is a great way to find out what's really going on or to get them to sleep, no matter their age.
At some point or another, most of them will save their best behavior for others.  Rejoice that they feel safe enough with you to act the way they really feel.
The older you get, the less you care about stuff that isn't going to matter.  However, with a certain age comes the ability and opportunity to say whatever you wish about whatever you like.  (Some of us are younger when this occurs.)  Hopefully, you can learn to add sufficient charm along with this propensity so that you'll be indulged more than not.
If you don't want them making decisions for you in your dotage, know where you want to be and what you want to happen.  Then get to work on it all.
Eavesdropping is an art.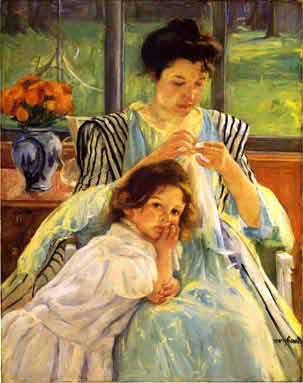 Your own children will appreciate that you are interested in theirs.  If you're not the kind who is interested in the children of others, you'll want to keep this in mind.
Uncle Sam might be the best employer for some of them.  Others, not so much.
The child who tantrums for an extensive period may very well be the one who persists in asking for the raise as an adult.
Empathy is probably the best attribute you could nurture in any child.
You most definitely are the center of their world, but it never lasts as long as you want it to.
Wishing everyone a Happy Mother's Day!
PassingThru is a participant in the Amazon Services LLC Associates Program, an affiliate advertising program designed to provide a means for sites to earn advertising fees by advertising and linking to amazon.com, amazon.co.uk, amazon.ca. Amazon and the Amazon logo are trademarks of Amazon.com, Inc. or its affiliates.